Published Books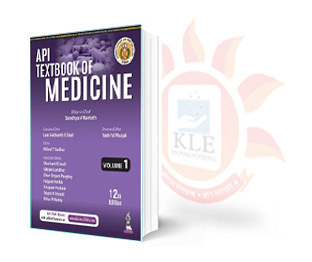 A book chapter on 'Quest for HIV Cure' in the textbook
"API Textbook of Medicine"

Year: 2022, 12th Edition, Volume-1, Publisher: The Association of Physicians of India. ISBN: 978-93-5465-636-1
Dr. Ramesh S. Paranjape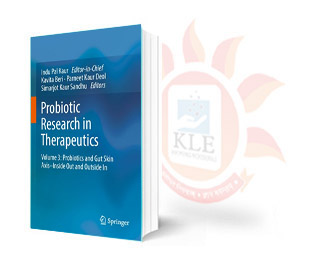 A book chapter on "Status of Using Probiotic Supplementation in Acne" in the textbook "Probiotic Research in Therapeutics: Volume-3: Probiotics and Gut Skin axis: Inside out and outside in".
Year: 2022, Pages: 135 – 145, Publisher: Springer Singapore, ISBNs: 978-9-81-165627-9, 978-9-81-165628-6 Authors: Aishwarya Hattiholi, Shivani Tendulkar, Suneel Dodamani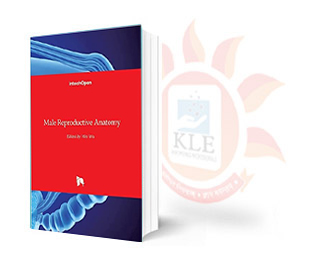 Chapter 5: Reproductive Toxicology: An update, in the Textbook "Male Reproductive Anatomy"
Year: 2022 (Jan), Print ISBN: 978-1-83968-524-8, Online ISBN: 978-1-83968-525-5, Publisher: IntechOpen Authors: Makhadumsab Torgall, Shridhar C. Ghagane, Rajendra B. Nerli and Murigendra B. Hiremath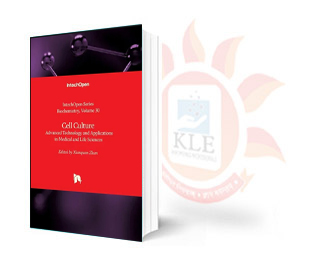 Chapter-2: Overview of Primary Cell Culture Models in Preclinical Research of Prostate & Bladder Cancer In the Textbook : Cell Culture – Advanced Technology and applications in Medical and Life Sciences
Volume 30 IntechOpen Series Biochemistry, Year: 2022, Print ISBN: 978-1-83969-445-5, Print ISBN: 978-1-83969-446-2 Authors: Kalyani Killekar, Sridevi Puranik, Aimen Akbar A., Shridhar C. Ghagane, Rajendra B. Nerli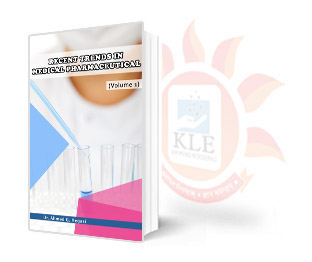 Chapter-03: Pluronics: A Theranostic Approach for Oncology Care, In the Textbook: Recent Trends in Medical Pharmaceutical (Volume 1)
Innovat Publisher, India. May 2022, ISBN: 978-81-957687-1-4 Ms. Prasiddhi R. Raikar, Panchaxari M. Dandagi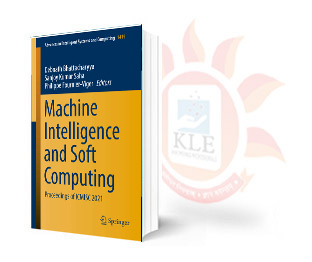 Chapter: Coronavirus (COVID-19) Detection and Classification Using High Resolution Computed Tomography (HR-CT) Imageries in the Textbook: In Machine Intelligence and Soft Computing
2022 (pp. 183-192). Publisher: Springer, Singapore. Online ISBN 978-981-16-8364-0, Print ISBN 978-981-16-8363-3 Gavade AB, Nerli RB, Patil A, Shridhar Ghagane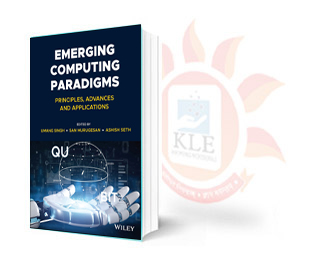 Chapter: Computational Intelligence Paradigms in Radiological Image Processing—Recent Trends and Challenges in the Textbook: Emerging Computing Paradigms: Principles, Advances and Applications
2022, Publisher: John Wiley & Sons Ltd., Print ISBN:9781119813408 | Online ISBN:9781119813439 Gavade AB, Nerli RB, Patil A, Shridhar Ghagane, Bhagavatula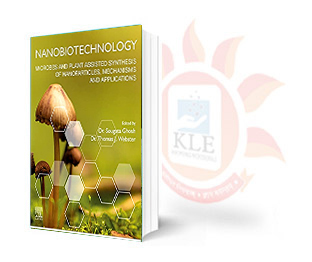 A book chapter on 'Chapter 17: Nanobiotechnology for E-waste management' in Book Nanobiotechnology: Microbes and Plant Assisted Synthesis of Nanoparticles, Mechanisms and Applications
Publication Details: Year: 2021, ISBN No.: 978-0-12-822878-4, Publisher: Elsevier Authors: Suneel Dodamani, Bhaskar Kurangi, Nagappa Teradal, Mahantesh Kurjogi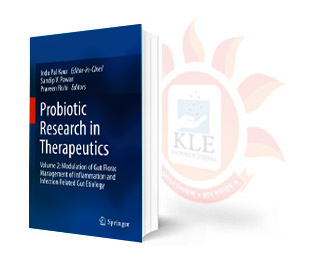 A book chapter on "An update on the Probiotic Usage in Bacterial Vaginosis" in Book Probiotic Research in Therapeutics, Volume 2: Modulation of Gut Flora: Management of Inflammation and Infection Related Gut Etiology
Publication Details: Year: 2021, Print ISBN: 978-981-33-6235-2, Online ISBN: 978-981-33-6236-9, Publisher: Springer Nature Authors: Aishwarya Hattiholi, Shivani Tendulkar, Suneel Dodamani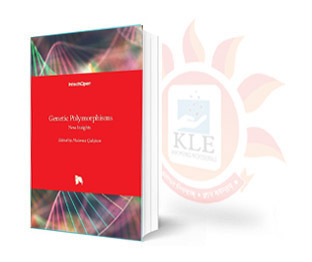 Chapter on 'Genetic Polymorphism and Prostate Cancer: An Update', in the textbook Genetic Polymorphisms - New Insights
ISBN: 978-1-83968-811-9, PRINT ISBN: 978-1-83968-810-2, Pages: 224, Authors: Surayya Siddiqui, Sridevi I. Puranik, Aimen Akbar and Shridhar C. Ghagane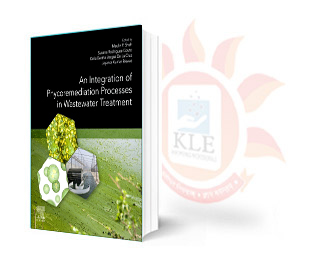 A book chapter on "Microbial communities: An effective tool for cleaning environment" in the textbook An Integration of Phycoremediation Processes in Wastewater Treatment
Authors: Suneel Dodamani, Aishwarya Hattiholi, Mahantesh Kurjogi Publication details: Year: 2021, ISBNs: 9780128234990, 9780128236314, Publisher: Elsevier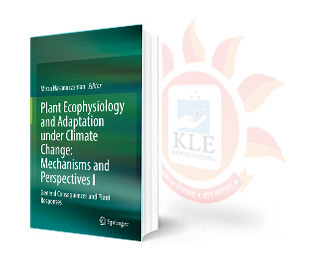 A book chapter on "High-temperature tolerance of flowers" published in Book Plant Ecophysiology and Adaptation under Climate Change Mechanisms and Perspectives I
General Consequences & Plant Responses, Chapter – 12. Publisher: Springer Nature, ISBN No.: 978-981-15-2155-3, Year: 2020 Authors: Satisha Hegde, Yui Umekawa, Etsuko Watanabe, and Ichiro Kasajima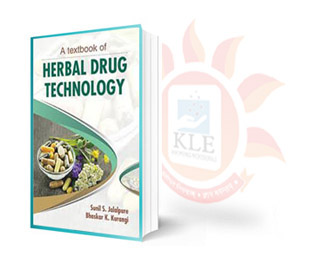 A Textbook on A Textbook of Herbal Drug Technology
Publisher: Vallabh Prakashan, ISBN: 9789385529276, Year: 2020, Pages: 168 Authors: Dr. Sunil S. Jalalpure, Mr. Bhaskar Kurangi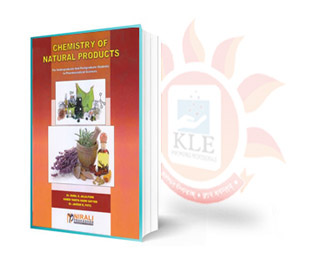 A book on Chemistry of Natural Products
[For Undergraduate & Postgraduate Students in Pharmaceutical Sciences] Publisher: Nirali Prakashan, ISBN: 9789388897778, Year: April 2019, 195 Pages Authors: Dr. Sunil S. Jalalpure, Hamid Yahiya Hasni Sayyed, Dr. Javesh K. Patil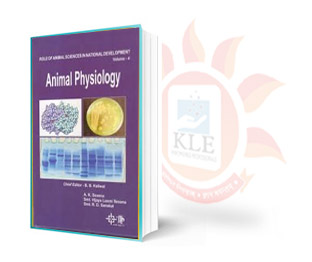 A Book Chapter on "Role of Phytochemicals in combating diabetes Mellitus present status in future prospects" published in Book Role of Animal Sciences in National Development Volume-4 Animal Physiology
Year: 2017, ISBN: 9788170195610, Authors: Suneel Dodamani, Basappa Kaliwal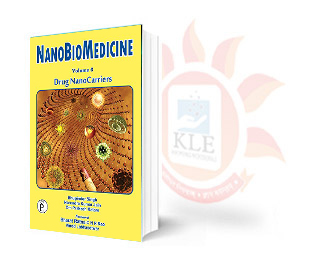 A book chapter on "Herbosomes" was published in Book NanoBioMedicine, Volume -6 Drug NanoCarriers.
Year: 2015, ISBN: 1626990565, e-ISBN: 1626991375, Publisher: Studium Press LLC, USA Authors: Kokate C K, Sunil Jalalpure, Pramod H J.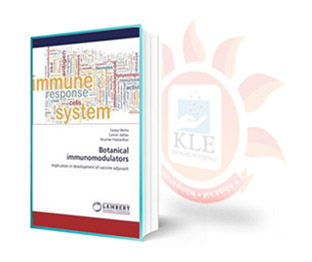 A book on Botanical immunomodulators: implication in development of vaccine adjuvant" Lap – Lambert
Lap – Lambert" Academic Publishing, Germany. ISBN: 978-3-659-50840-0, Jan.2014, 249 Pages. Authors: Dr. Sanjay Mishra, Dr. Suresh Jadhav, Dr. Bhushan Patwardhan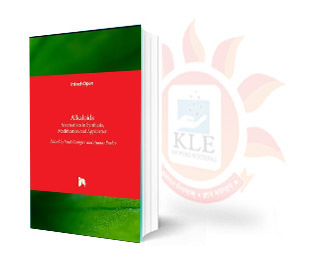 A book chapter on "Chapter-4, Sceletium Plant Species: Alkaloidal Components, Chemistry and Ethnopharmacology, in the textbook Alkaloids – Alternative in synthesis, Modification and Application
Authors: Srinivas Patnala and Isadore Kanfer.
A book chapter on "Chromatographic Methods of Analysis: Gas Chromatography" in Encyclopaedia of Pharmaceutical Science and Technology
Fourth Edition. CRC Press, Author: Srinivas Patnala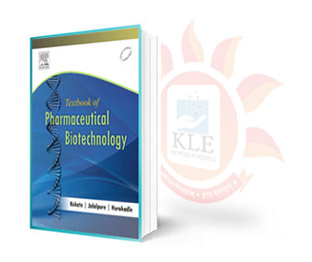 A book of Pharmaceutical Biotechnology
Elsevier Publications, May 2012, 350 pages Authors: Kokate C K, Jalalpure Sunil, Hurakadle P J
KAHER's Dr. Prabhakar Kore Basic Science Research Center, Belagavi, Karnataka.
Textbook chapters authored during the year 2022 - 23
Sl. No
Author /s
Publication Details
National/ International
Chapters in Text Book
1
Dr. Shridhar C. Ghagane
Scientist Gr-II
ISSN 2367-3370 ISSN 2367-3389 (electronic)
Lecture Notes in Networks and Systems
ISBN 978-981-19-6879-2
ISBN 978-981-19-6880-8 (eBook)
Springer Nature Singapore Pte Ltd.
Cancer Cell Detection and Classification from Digital Whole Slide Image. InSmart Technologies in Data Science and Communication: Proceedings of SMART-DSC 2022 2023 Jan 1 (pp. 289-299). Singapore: Springer Nature Singapore.
Chapter (31): Cancer Cell Detection and Classification from Digital Whole Slide Image In the Text Book: Smart Technologies in Data Science and Communication
2
Dr. Shridhar C. Ghagane
Scientist Gr-II
Year: 2022 (Jan),
Print ISBN: 978-1-83968-524-8,
Online ISBN: 978-1-83968-525-5,
Publisher: IntechOpen
International
Chapter 5: Reproductive Toxicology: An update In the Textbook: Male Reproductive Anatomy
3
Dr. Shridhar C. Ghagane
Scientist Gr-II
Year: 2022,
Print ISBN: 978-1-83969-445-5,
Print ISBN: 978-1-83969-446-2
IntechOpen Series Biochemistry
International
Chapter-2: Overview of Primary Cell Culture Models in Preclinical Research of Prostate & Bladder Cancer In the Textbook: Cell Culture – Advanced Technology and applications in Medical and Life Sciences, Volume 30
4
Dr. Shridhar C. Ghagane
Scientist Gr-II
Year: 2022,
2022 (pp. 183-192). Springer,
Singapore.
International
Chapter: Coronavirus (COVID-19) Detection and Classification Using High Resolution Computed Tomography (HR-CT) Imageries.In the Textbook: In Machine Intelligence and Soft Computing
5
Dr. Shridhar C. Ghagane
Scientist Gr-II
Year: 2022,
Publisher: John Wiley & Sons Ltd. 2022,
International
Chapter: Computational Intelligence Paradigms in Radiological Image Processing—Recent Trends and Challenges. In the Textbook: Emerging Computing Paradigms: Principles, Advances and Applications
6
Dr. Ramesh S. Paranjape,
Dist. Professor, KAHER & I/C Director, KAHER's Dr. P. K. BSRC, Belagavi.
Year: 2022, 12th Edition, Volume-1,
Publisher: The Association of Physicians of India.
ISBN: 978-93-5465-636-1
National
A book chapter on Quest for HIV cure In the textbook "API Textbook of Medicine"
7
Shivani Tendulkar,
Ph.D. Research Scholar

Suneel Dodamani,
Scientist Gr-I
Year : 2022, Pages: 135–145,
Publisher: Springer Singapore,
ISBNs:
978-9-81-165627-9,
978-9-81-165628-6
International
A book chapter on "Status of Using Probiotic Supplementation in Acne" In the textbook "Probiotic Research in therapeutics: Volume-3: Probiotics and Gut Skin axis: Inside out and outside in".
8
Dr. Shridhar C. Ghagane
Scientist Gr-I
Year: 2022 (Jan),
Print ISBN: 978-1-83968-524-8,
Online ISBN: 978-1-83968-525-5,
Publisher: IntechOpen
International
Chapter 5: Reproductive Toxicology: An update
In the Textbook: Male Reproductive Anatomy
9
Dr. Shridhar C. Ghagane
Scientist Gr-I
Year: 2022 (Jan),
Print ISBN: 978-1-83969-445-5,
Print ISBN: 978-1-83969-446-2,
Publisher: IntechOpen Series Biochemistry,
International
Chapter-2: Overview of Primary Cell Culture Models in Preclinical Research of Prostate & Bladder Cancer
In the Textbook: Cell Culture – Advanced Technology and applications in Medical and Life Sciences, Volume 30
10
Ms. Prasiddhi R. Raikar
Ph.D. Research Scholar
Year: May 2022,
Innovat Publisher, India.
ISBN: 978-81-955997-4-5
National
Chapter-03: Pluronics: A Theranostic Approach for Oncology Care
In the Textbook: Recent Trends In Medical Pharmaceuticals (Volume 1)
11
Dr. Shridhar C. Ghagane
Scientist Gr-I
2022 (pp. 183-192). Springer, Singapore.
International
Chapter: Coronavirus (COVID-19) Detection and Classification Using High Resolution Computed Tomography (HR-CT) Imageries.
In the Textbook: In Machine Intelligence and Soft Computing
12
Dr. Shridhar C. Ghagane
Scientist Gr-I
Publisher: John Wiley & Sons Ltd. 2022,
International
Chapter: Computational Intelligence Paradigms in Radiological Image Processing—Recent Trends and Challenges.
In the Textbook: Emerging Computing Paradigms: Principles, Advances and Applications